Office/Commercial Relocations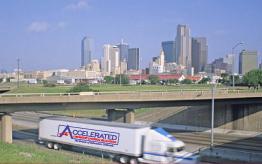 Accelerated Moving and Storage, Inc. is a major office relocation company. If you need to move one item or an entire office, we can provide a worry-free process for all your moving needs.
The care and detail we provide from the planning phase through the completion, is designed to make your department or company's relocation a total success.
ACCELERATED'S OFFICE / COMMERCIAL SERVICES
Comprehensive project management and coordination
Complete packing, unpacking, and debris removal
Specialists in computer and high value electronic moves
Full line of computer and electronic carts
Office carts in lieu of packing and unpacking boxes
Full rigging services
Forklifts (2 tons to 10 tons)
Office room cleaning and vacuuming services
Libraries and file rooms
Accelerated Moving will also coordinate the residential relocations of one or more of your newly hired personnel in the United States or internationally. Nationally, 94% of the jobs we book through Accelerated are packed, loaded, transported, and unpacked by Accelerated personnel on Accelerated equipment. Since the company's inception, we have a 100% on time pick-up and delivery record. We do not broker out business.
We do not charge overtime for evening or Saturday moves. We will save your company time and money by providing an efficient relocation; a set of move calendars, and minimizing or eliminating wasted employee productivity.
Call us today at 1-800-965-1007 to set up a move survey.