Biological Specimen Relocations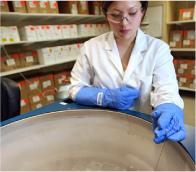 Accelerated Laboratory and Hospital has a proven track record of handling biological specimen shipments and specialty moving. We take every precaution necessary to successfully transport your specimens, including using climate-controlled vans for relocating temperature-sensitive specimens. Our generator-equipped laboratory trucks are used to relocate Ultralows, -80ºC, -70ºC, -20ºC freezers and 4ºC refrigerators to maintain the integrity of your specimen and eliminate the need for dry ice.
Accelerated Laboratory and Hospital has the personnel, specialized equipment and experience to provide you with a world-class relocation while maintaining your laboratory¹s safety and the integrity of your research materials.
Call us today at 800.965.1007 for details or to set up an appointment.
Benefits We Offer:
Employees certified to work in Biohazard, Chemical, and Blood borne pathogen (BBP) environments
Strategically planned moves over time Strategically planned single or phased moves
 Provide Loaner -80º, -20º and 4º Freezers and Liquid Nitrogen Dewers for Transportation
 Relocation of Biological Specimens
 Relocation of Cryostat Instruments and Mass Spectrometers
 Relocation of Liquid Nitrogen Containers
 Chemical Liability Coverage
 Free Consultation and Analysis of Move Requirements